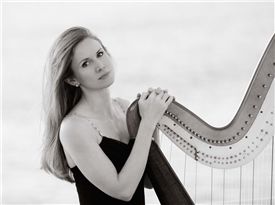 Stephanie Nash began her study of the harp 30 years ago in Houston, Texas.  During her early years of performing, she was the principal harpist for the Houston Symphony North and Houston Youth Symphony and played frequently at the River Oaks Country Club.  She was also the winner of the Houston Area Harp Competition in 1984 and 1985.
Stephanie received a full in-state and out-of-state scholarship from Louisiana State University in Baton Rouge, Louisiana to study with Symphony Harpist, Hye-Yun Chung.  During her years at LSU, she was able to compile an extensive musical repertoire while learning to be a versatile and proficient performer.  She received a Bachelor's Degree in Music Performance in 1990 and continued her music education through graduate studies until 1992.
In 1992, Ms. Nash had the opportunity to move to Illinois where she became the principal harpist for the Springfield Symphony.  In addition to symphony appearances, Stephanie held performance contracts at the Panther Creek Country Club and Church Street Pub, while also playing at various events in the Springfield, Chicago and St. Louis areas.
In 1996, Stephanie moved to New Orleans, Louisiana to become a member of the GulfCoast and Mobile Symphonies, during which time she performed with Crystal Gayle and experienced one of the true highlights or her career – performing with Luciano Pavarotti. Her freelance performances included regular appearances at The Columns, LePavillon Hotel, English Turn Country Club, The Patron Saints Club in the Superdome and Noble Bistro, in addition to providing music for weddings, receptions, luncheons, funerals and various other events.  In 2004, Stephanie's career took her to Chicago, where she ran a successful teaching studio and performed numerous freelance engagements.
Ms. Nash returned to her home state of Texas in 2006 after a 20 year absence.  She spent seven years in the Kerrville/San Antonio area where she had the opportunities to perform with Marvin Hamlisch and Kansas. She was a regular performer at Rivers Edge Tuscan Grille while maintaining her teaching studio and keeping up with her freelance and symphony performances.  She then spent a year in Corpus Christi working with a fabulous harpist, Patricia Furley, before returning to the city she loves, New Orleans.  She currently resides in San Antonio where she is performing throughout the Texas Hill Country and South Texas areas.